9 lakh vacancies: In 2019 and 2020, vacancies in central authorities excluding the armed forces has touched 10 lakh. There are so many vacancies but the government is not releasing recruitment notification. Let's have a look at the data. Click here to Join whatsapp/ telegram study group →
An analysis of data from the Ministry of Expenditure's annual reports on salaries and allowances shows that in 2020 there were almost 8.9 lakh civilian vacancies in the central government and a further 1.1 lakh in central police forces. Also in 2019, there were over 10 lakh vacancies.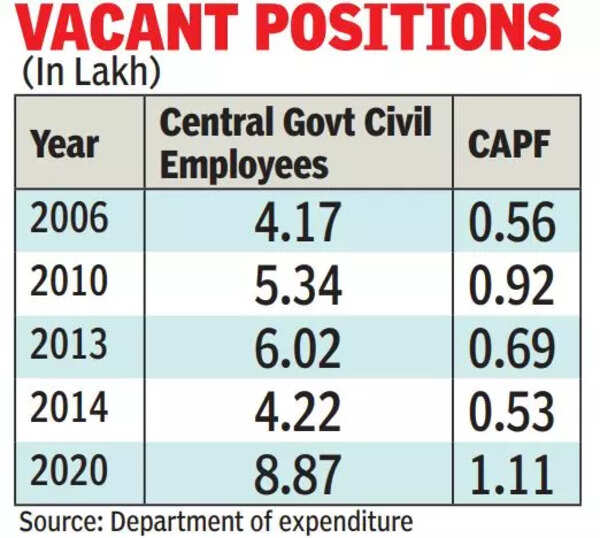 Data on vacancies for both central government civilian services and central police forces have been available since 2006.
The number of vacancies decreased since 2014 and remained at the reduced level until the next two years. Since then, they have increased drastically even though information was not available for 2017. In addition, the seventh pay commission was approved in 2016. From 4.7 lakh in 2016, the vacancies exceeded 7 lakh in 2018 and 10 lakh in 2019.
Data on civilian vacancies in the state have been available since 2001 and the figures show that from 5.0% of the sanctioned services in 2001, those vacancies have increased to a staggering 21.7% by 2020.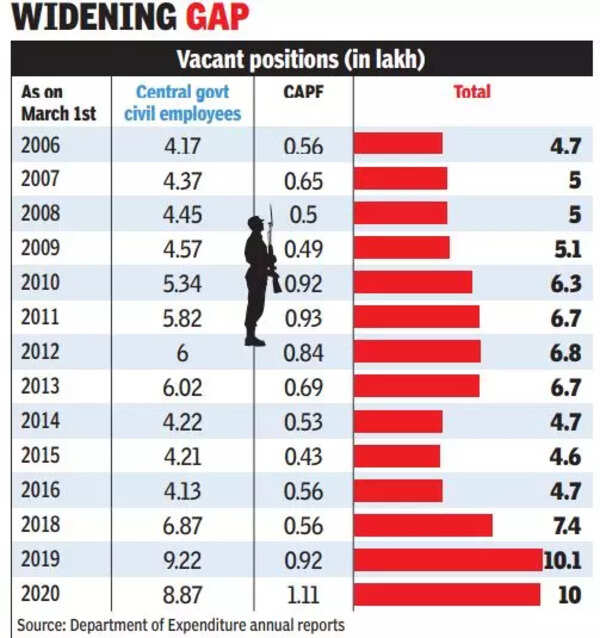 In absolute numbers, against the sanctioned strength of just under 36.1 lakh positions in the central government were 1.8 lakh vacant in 2001, which increased to almost 8.9 lakh against the sanctioned strength of 40.8 lakh in 2020.
The data show that vacancies increased steadily from 5.0% in 2001 to 16.2% in 2013 but fell below 12% in 2014, 2015 and 2016. They then increased sharply to pass 20% in 2019 and 2020.
Data on vacancies within the central police forces have been available since 2006 and the figures show that in 2006 there were 56,000 vacancies against the sanctioned force of 7.2 lakh – slightly below 8% of the available posts. In 2010, vacancies passed 10% but then fell to 4.5% in 2015, from where they increase steadily and have once again passed the figure of 10% in 2020.
Related Posts