What is Agnipath recruitment Scheme: The central government unveiled the Agnipath or Agneepath scheme. The new system is only for personnel below officer ranks (those who do not join the forces as commissioned officers). Let's have a look at various details of Agneepath or Agnipath scheme for Indian Army, Indian Airforce, Indian Navy (Indian Defense/ Armed Forces) such as eligibility, recruitment details, notification pdf, educational qualifications, salary, stipend, joining details, training details, how to apply, advantages, benefits, disadvantages, agniveers details, etc. Click here to Join whatsapp/ telegram study group →
Study Material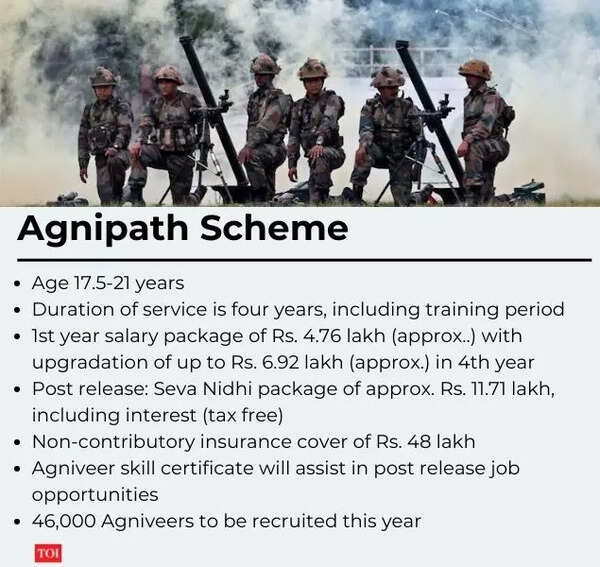 Agnipath Scheme Army Age Limit: Army, Airforce, Navy
Candidates between the age of 17.5 years and 21 years will be inducted into the services for a four-year tenure. This four-year tenure will include a six-month training. The recruitments will begin within the next 90 days and the first batch will be ready by July 2023.
Agneepath Yojana Vacancy: Number of Posts
There are a total of 46,000 posts to be filled via this agnipath recruitment scheme in the Indian Armed Forces i.e. Indian Army, Indian Navy, Indian Airforce.
Agnipath Scheme Recruitment Notification Date
The recruitments will begin within the next 90 days and the first batch will be ready by July 2023.
Who are Agniveers: Indian Armed/ Defence Forces
Candidates those who will get selected for the Agnipath scheme will be known as Agniveers. The selection will be made through an online centralised system.
Agnipath Scheme Eligibility: Educational Qualifications
Educational qualification for Agniveers will be the same as the criteria for regular positions in the force.
Agneepath Yojana Selection Process
The selection will be made through an online centralised system.
Can women join Agnipath Army, Airfoce, Navy Yojana?
Women will also be inducted under the Agnipath scheme. Agniveers will be fully assimilated and integrated into the services.
Agneepath Scheme Salary: Indian Army, Airforce, Navy
Candidates will be paid a monthly salary between ₹ 30,000-40,000 plus allowances. They will also be entitled to medical and insurance benefits.
Once selected, the aspirants will go through training for six months and then will be deployed for three and a half years.
Importantly, during this period, 30 per cent of their salary will be set aside under a Seva Nidhi programme, and the government will contribute an equal amount every month, and it will also accrue interest.
At the end of the four-year period, each soldier will get Rs 11.71 lakh as a lump sum amount, which will be tax-free.
They will also get a Rs 48 lakh life insurance cover for the four years.
In case of death, the payout will be over Rs 1 crore, including pay for the unserved tenure.
However, after four years, only 25 per cent of the batch will be recruited back into their respective services, for a period of 15 years.
For those who are re-selected, the initial four-year period will not be considered for retirement benefits.
Is Agnipath Defence Yojana Permanent Job?
After four years, only 25 per cent of these soldiers will be retained and they will join the regular cadre and go on to serve for a full 15 years in non-officer ranks. The remaining will exit the services with a package between ₹ 11 lakh – ₹ 12 lakh, but they will not be eligible for pension benefits. The forces announced that provisions have been made for loss of life or disability due to an injury on duty.
Benefits of Agneepath Scheme?
The scheme, if successful, will drastically cut the annual revenue and pension bill which accounts for half of the annual defence budget of ₹ 5.2 lakh crore.
The government says the scheme will enhance the "youthful profile" of the forces and also bring about a transformational shift towards a more tech-savvy combat force.
The average age in the forces is 32 years today, which will go down to 26 in six to seven years, the scheme envisions.
Disadvantages of Agnipath Scheme?
The scheme has drawn criticism from some quarters, with critics arguing that it will impact the fighting spirit and professionalism of forces. They have raised concerns that the four-year tenure may make soldiers risk-averse.
Agnipath Soliders Insurance Cover
The 'Seva Nidhi' will be exempt from Income Tax. There shall be no entitlement to gratuity and pension benefits. Agniveers will be provided non-contributory Life Insurance Cover of Rs. 48 lakhs for the duration of their engagement period in the Indian Armed Forces.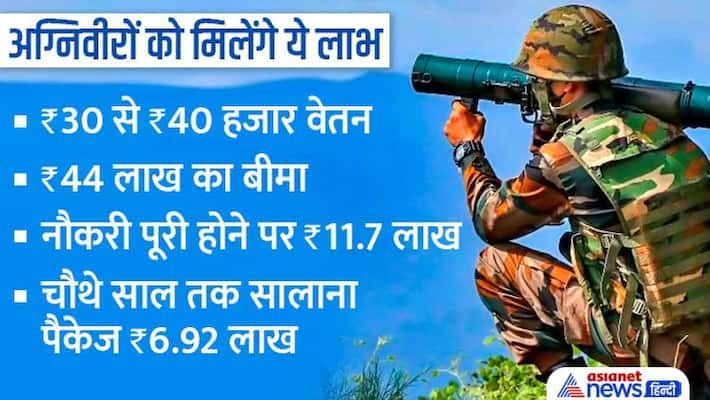 Is Agnipath Defence Scheme for Officers or Soldiers?
The Agnipath Scheme or Agneepath Yojana is only for personnel below officer ranks (those who do not join the forces as commissioned officers). The Agnipath recruitment is only for the post of soldier in the armed forces of India i.e. Indian Army, Indian Airforce, Indian Navy.
Recommended Articles for You